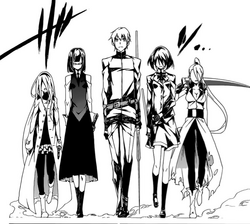 The Group of Terror was a group of children taken in by the Empire to be trained as assassins. It was made up of the children who weren't skilled enough to get a position in the Elite Seven (roughly those who were given the Kill Rank of No.8 and higher). In order to compensate for their lack of talent, they were instead given performance-enhancing drugs that then artificially gave them their superhuman abilities similar to the innate abilities naturally developed by the Seven.
After the raid on the tomb and fighting the Gravekeeper, the original surviving members of the Group of Terror are transferred into Elite Seven and Kairi has taken over position as its leader with new recruits.
Eventually due to the Deaths of Uncle Bill and his Assistant and the majority of its original members being killed in actions, the group was eventually dismantled and its surviving members reassigned to its successor unit, the Dark Squad.
Due to the severe side effects of their drug doping and performance enhancers, many members of the Group began suffering severe physical debilitations due to their bodies no longer withstanding the severe abuse of their constant drug use. When this "weakness" becomes apparent or if members are injured too much to continue going on missions, they would thus then be "scrapped" and euthanized by Uncle Bill due to them no longer having any strategic value as assassins or even common soldiers. Resulting in many of its members developing a deep psychological fear of becoming "weak" and often hide these "weaknesses" despite being life threatening, in order to avoid being "scrapped".
Members
Former members
Deceased members