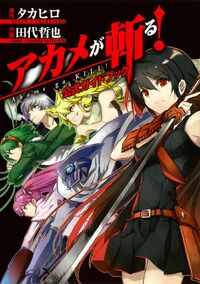 Akame ga Kill! Official Guidebook (アカメが斬る! 公式ガイドブック, Akame ga Kiru! Kōshiki gaidobukku) is a supplementary guidebook written by Takahiro and illustrated by Tashiro Tetsuya that contains additional information about the characters, factions and Teigu featured in the series.
It features artwork of the characters, a brief summary of the series and character profiles which provide information such as their ages and heights, as well as creator's notes. It also details the connections between various factions, retells the stories of each battle of the series and has a number of extra pages with humorous content, as well as an interview with the author.
Community content is available under
CC-BY-SA
unless otherwise noted.